Become a leader of the women's suffrage movement demanding votes for women!
Be inspired by history or choose a different path as you conduct actions,  grow the movement of supporters and ultimately win the vote!
Suffrage is a card based board game about the iconic and pivotal struggle for women's suffrage in early 20th century Britain and Ireland. Each player takes the role of one of six historical women, all interesting and important personalities in the movement.
The rules are brief and easy to understand, and gameplay focuses on the fun and thrilling actions and events that these women and their followers conducted.
The goal of the game is to acquire a large enough movement and persuade enough male MP's over at Parliament to support the cause of votes for women. Inspired by real history, real events, real actions and real persons, the game put's the player in the centre of this important period in history. The game is always empowering, always ending with women winning the vote. It is just a matter of which movement, led by which player, wins it first.
The game consists of 110 cards and 60 custom suffrage supporter miniatures.
Suitable for ages 12+, the game takes about 30 minutes to play. For 2-5 players.
The game is entirely in British English (and double up proof-read!).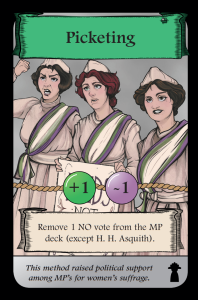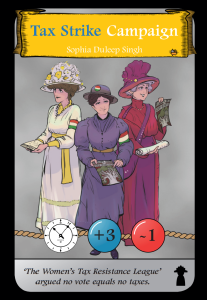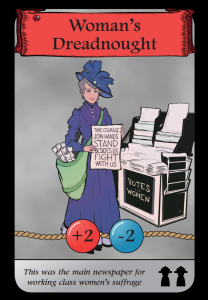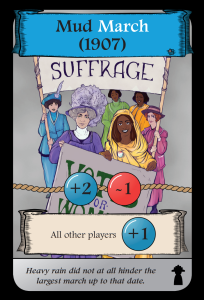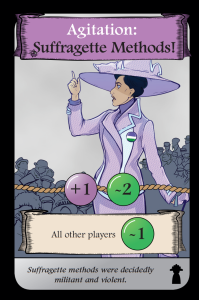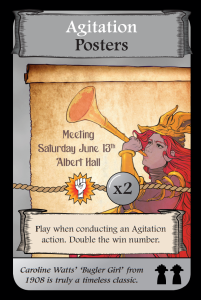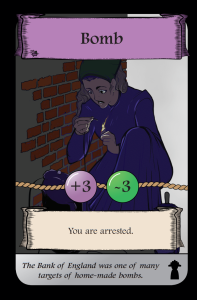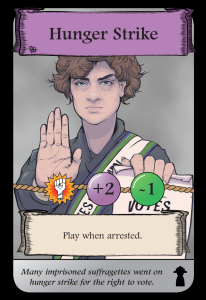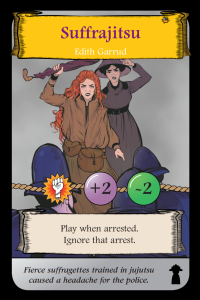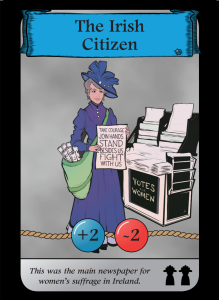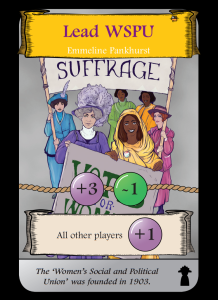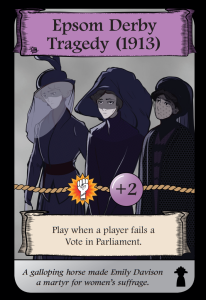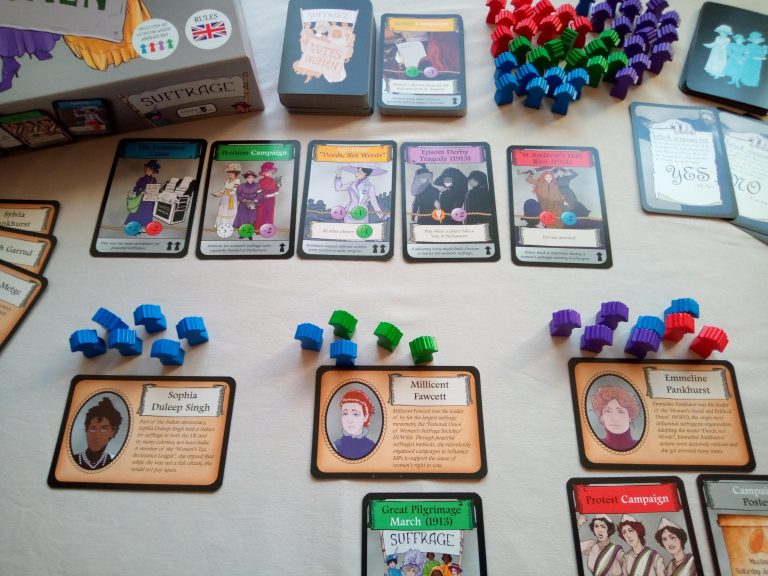 Reviews and playthroughs:
Spelkult.se (swedish): Rösträtt för kvinnor! Recension av Suffrage – Spelkult
Arbetaren (swedish): https://www.arbetaren.se/2022/02/16/verklighetsbaserat-bradspel-om-rostrattskampen/
A Geek Girl's Guide (english): Suffrage Review – A Geek Girl's Guide (ageekgirlsguide.com)
Game4LifeBG (video, english): Suffrage: Votes for Women, Playtrough with the designer Ulrik – YouTube
BoardGameGeek (english): video and text reviews, images and other content such as variant rules for playing Suffrage at schools: Suffrage | Board Game | BoardGameGeek
Quotes:
What a brilliant, engaging game. I was really impressed with the level of research that went in to this Suffrage game. I loved the little, thought provoking touches, like the way there were less of certain types of pieces, illustrating the class barriers some women came across in getting involved in the movement. It's a great way to learn more about the suffrage movement, but also engaging and accurate enough to impress people who already have in-depth knowledge. A very enjoyable game! / Vicky Iglikowski-Broad, Suffrage Historian.
The game was quick to play both in terms of understanding what to do (I can't stand games that have instructions the gthickness of a novel and take agaes to understand what you have to do) & playing time. From an educational perspective it teaches about some of the key players, activities and moments in the suffrage movement. /Alison, committee member of Nottingham City Women's Institute
It was great to play the game – I really enjoyed the level of detail, and especially the different coloured supporter pieces. / Naomi Paxton, researcher and performer.
This splendid new game is much fun to play. It would make a wonderful present for all those interested in women's history, especially women's struggle for the parliamentary vote in Britain. / Professor June Purvis, author of Emmeline Pankhurst: a biography (Routledge, 2002), Christabel Pankhurst: a biography (Routledge, 2018), a innumerable publications on the suffragette movement in Britain, and editor of the international feminist journal Women's History Review.
The game is printed in a very limited once-in-a-lifetime edition.
Order your copy by sending an email to: info@athenaspel.se , notifying how many copies of the game you want and the address you want the games to be sent to. If you live in the UK, also give your mobile phone number.
You will not pay anything in advance but instead receive an electronic invoice with the deliverance of the game, sent to your e-mail.
The invoice can be payed by bank transfer or by PayPal.
Delivery is done in accordance to the DAT terms of the international Incoterms.
Due to various conditions prices vary depending on if you live in Sweden, rest of EU or United Kingdom:
SWEDEN
The game costs 300 SEK (incl. VAT), plus postage.
Postage for 1 copy of Suffrage: 50 SEK (incl. VAT).
Postage for 2 copies of Suffrage: 60 SEK for both (incl. VAT).
Alternatively, you can pick the game up for no postage in Umeå.
REST OF EU
The game costs 300 SEK (incl. VAT), plus postage.
Postage for 1 copy of Suffrage: 85 SEK (incl. VAT).
Postage for 2 copies of Suffrage: 120 SEK for both (inc. VAT).
UNITED KINGDOM
The game costs 300 SEK (~£22), plus postage. This includes taxes and customs.

Postage for 1 copy of Suffrage: 85 SEK (~£6).
Postage for 2 copies of Suffrage: 120 SEK for both (~£9).

Missing Pieces, Extra pieces.
It is of greatest importance that you are happy with the game. Please contact me in case your copy of the game has been damaged in any way. I've also noticed some decks of cards have been delivered incorrectly cut from the printers. If your copy is badly cut in any way, just let me know and I will gladly send you replacements.

Also, if you frequently play with large gaming groups the figures included might run out too quickly. Just send me a message, and I'll post you a bunch of extra figures, at no cost for you.